RSSC employees conducted training for students of Azerbaijani-French University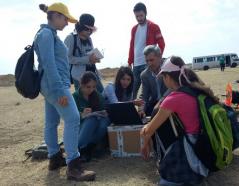 In accordance with the agreement concluded between the Republican Seismic Survey Center of ANAS and the Azerbaijani-French University, the Center employees conducted training for 4-year students on the use of geophysical instruments and processing of data obtained during the study on these instruments.
The training on the site in the Gobu district was conducted by the head of "Macroseismic research" department of the RSSC, doctor of philosophy in geology and mineralogy, associate professor Etibar Garaveliyev, the head of the "Gravimetric research" department Elchin Bagirov, the senior researcher at the "Magnetometry" department Nadirshakh Khanbabayev and the employee of this department Mahir Zeynalov.
During the five-day training, the employees of the Strasbourg University of France Maxim Bano GPR, Sheldon Warden held training courses in electromagnetic research.
Since field work was interesting to students, they expressed a desire to take the subject for their diploma works from the RSSC ANAS.
Information Department of RSSC ANAS